De Fount-Haberlin Spanish and Portuguese Catering
De Fount-Haberlin Spanish and Portuguese catering featuring paella and sangria.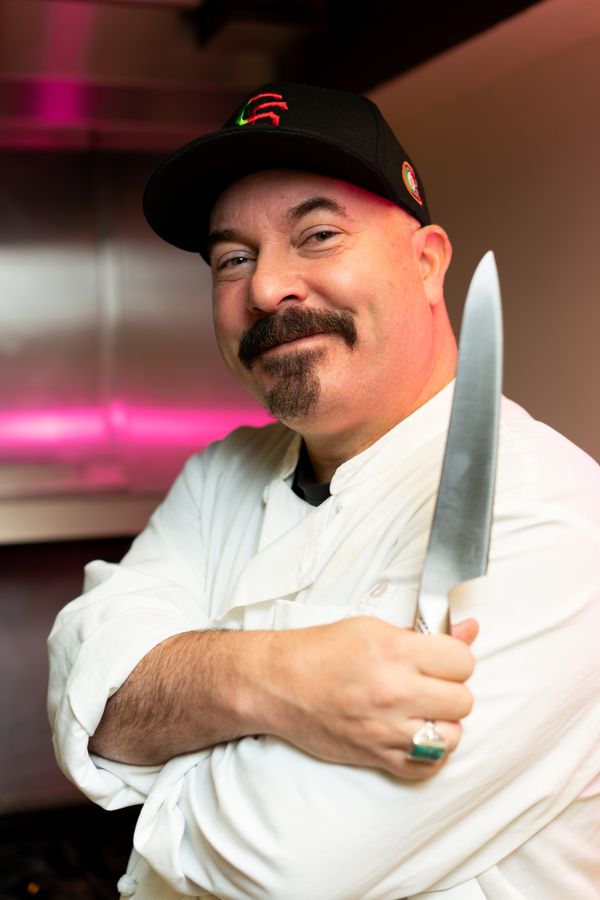 Chef Heath De Fount-Haberlin: Bio
Heath De Fount-Haberlin is a 7th generation San Franciscian (original San Francisco 49'ers) and he is a 5th generation Azorean Portuguese resident of southern Marin County. Heath's Azorean Portuguese De Fount (da Fonte Garcia) family hail from the Azorean islands of Pico, Faial and Sao Jorge since the early-17th century (1625 to be exact). His local culinary heritage is full of multi-generational chefs. His great-grandfather Alvan Symons moved to San Francisco the day before the 1906 earthquake and was a chef at Hedgewig's for decades. Both his father, San Francisco Fire Department Assistant Chief Dave Haberlin, and his maternal grandfather, Eugene Aloysious De Fount, were San Francisco Fire Department firemen and chefs in the San Francisco Fire Department for over three decades each. Heath includes both famed celebrity chef Julia Childs and world renowned four star Michellin-rated French chef Paul Haberlin as a relatives as well.
Starting in 2008, chef Heath De Fount-Haberlin has run (and cooked for thousands of "foodie" guests) at the Far West Festival Oyster-Off at Love Field in Point Reyes, California. In 2014, for 6th consecutive year in a row, chef/musician Heath De Fount-Haberlin won the best-in-show oyster sauce competition (with his signature winning dish was "Heathro's Bingos") as voted for by the public. In addition to handling the Far West Festival's Oyster-Off competition, Heath's Azorean Portuguese catering company also served his signature dish "Portuguese Paella" and sangria.

Recently in 2016, Chef Heath De Fount-Haberlin has been both cooking paella and serving wines at wine tasting events for Sean Thackrey Wines in both Bolinas, California and in Forestville, California. Sean Thackrey is one of the most influential people in the Bay Area Food & Wine community, and has been for nearly three decades. Along with luminaries like Alice Waters and Kermit Lynch, Sean Thackrey is deeply linked to the shaping of food & wine as we know it, and to this day represents many of the best and most ground-breaking practices in our industry. Since 1980, Sean has been producing wines that are extraordinary not only for great quality and complexity, but also because Sean utilizes unique wine-making techniques, often drawing from historic, sometimes ancient, wine-making practices from all over the world. The results are consistent, as evidenced by Sean's continued support and enthusiasm from his peers and devoted customers. Sean sources grapes from many locations throughout California, and makes all his wines by hand–"touching every grape"–at his small Bolinas winery. Self-taught, and fully reliant on his intuition and senses, Sean is the antithesis of corporate wine-making. The proof is in the bottle.
In May of 2023, Chef Heath De Fount-Haberlin partnered with the Spanish Table as their paella chef. The Spanish Table is a specialty import store focused on food, wine, and cookware from Spain and Portugal. The Spanish Table is located in Marin, Berkeley and San Francisco.
Chef Heath De Fount-Haberlin works with the Mill Valley Golf Course, the Mill Valley Rotary Club, the Indian Valley Golf Course, the IDESST Portuguese Cultural Center in Sausalito, California, the TVIC (The Tamalpais Improvement Club) in Tamalpais Valley, California and Slide Ranch in Muir Beach (Bello Beach), California.
Chef Heath De Fount-Haberlin works with both the Lifehouse in San Rafael, California and with San Francisco's historic Glide Memorial Church in the city's Tenderloin District helping and feeding the needy.
Chef/musician Heath De Fount-Haberlin resides in both San Francisco and Marin counties with his beloved chihuahua "Tazmania" the devil dog.
Heath De Fount-Haberlin: Paella Chef
Contact Chef Heath De Fount-Haberlin via email at heathheathhaberlin@earthlink.net or at (415) 517-9039. 
We provide paella pans, wooden paella serving spoons, paella grills, glass sangria pitchers and Igloos.
Plates, cutlery, glasses, napkins, tables, linens and chairs must be rented or provided by client.
No party garbage hauling. We will take what we create cooking.
We ask for half of the total cost up front for ingredient shopping purposes.
Gratuity: 20% in addition the the total price.
If we are setting up, staying to serve and breaking down we will bring serving bowls and serving utensils.
If we are dropping food off to leave clients to serve, paella pans can be picked up the next day.
Chef Heath De Fount-Haberlin and the Far West Festival